Archive for December, 2014
Posted by admin, December 14, 2014 8:51 am
Human Rights Watch says political prisoners are commonly abused by government of President Islam Karimov.
Torture of political prisoners is widespread in Uzbekistan, a Central Asian country courted by the West as a transit point for forces fighting in Afghanistan, the Human Rights Watch (HRW) says.
In a report entitled Until the Very End: Politically Motivated Imprisonment in Uzbekistan published on Friday, HRW cited the cases of 34 prominent political prisoners as evidence that torture, kidnapping, incommunicado detention, solitary confinement and extension of sentences were all widespread. The watchdog group also added that local human rights bodies believed the number of political prisoners in Uzbekistan was in the thousands.
President Islam Karimov, 76, tolerates no dissent in the ex-Soviet state of 30 million people, which he has ruled since 1989.
HRW, whose Uzbek office was shut down in 2011, said its findings were based on more than 150 interviews with detainees' relatives, former prisoners, human rights activists and a former prison official.
"Whether behind bars for 20 years or a shorter time, these people have been wrongfully imprisoned and shouldn't spend even one more day behind bars," said Steve Swerdlow, HRW's Central Asia researcher and the former head of its Uzbek branch.
People & Power: The Long Arm of the Dictator
The report cited the case of Kayum Ortikov, a former employee of the British embassy in the capital Tashkent, who said he had been tortured for nine months in 2009 after being convicted on what he said were fabricated charges of human trafficking.
He said his torturers in the Tashkent city jail had burned his genitalia with flaming newspapers, pushed needles under his fingernails, and threatened to have allegedly HIV-positive prisoners rape him if he did not confess to being a spy.
After a public campaign by his wife, rights groups and British journalists, Ortikov was released in May 2011. He and his family fled Uzbekistan and finally resettled as refugees in the US this year.
Uzbek officials could not be reached or declined to comment, but Karimov has in the past said his tough methods were needed to keep Islamist militancy in check. Karimov's relations with the West worsened when his troops notably crushed popular protests in 2005 in the eastern city of Andijan during which 187 people died according to the government and 700 according to rights groups.
With no political opposition to speak of and a state media that is highly supportive, Karimov looks likely to win a new term as president next March.
– "aljazeera"
Posted by admin, 8:49 am
NDÉLÉ, Central African Republic — One day in September, Ahmed Adam, 23, sat on the ground in the regional capital, Ndélé, and rolled a cigarette. Adam was restless. Earlier that week he returned from the capital, Bangui, about 400 miles away. He was happy to be home. But with no money or means to buy what he needed to restart his life, he said, he was waiting for the U.N.-run demobilization program to begin, when he hoped to collect some cash. "If it works, I'll be a farmer and work in the fields," Adam said. "But if it doesn't work, I'll return to fight."
Adam had been fighting since 2010, he said, when he joined the Convention of Patriots for Justice and Peace (CPJP), a northern rebel group that sought to overthrow the government of François Bozizé since 2008. Adam fought, he said, for the rights of the people in the north. But it was also to avenge a personal insult that he suffered at the hands of Bozizé's police.
The CPJP believed that Bozizé, an ethnic Gbaya, was corrupt and that he failed to uphold promises to make his government more inclusive of other regions and ethnic groups. In 2012 a faction of the CPJP, along with other rebel groups, foreign mercenaries and local volunteers came together to form the Séléka, which means "alliance" in Sango, the national language. Most but not all the fighters were Muslim like Adam. The movement often recruited impoverished, uneducated men, and Ndélé quickly became a stronghold. The Séléka gathered strength as they went south, and on March 24, 2013, they succeeded in overthrowing Bozizé and installing their own president, Michel Djotodia.
The Séléka's nine-month hold on power was cataclysmic. Djotodia proved unable to control his ranks of rebels. They raped women, plundered villages and killed hundreds, perhaps thousands of people whom they associated with Bozizé. In the south, nearly everyone was affected in some way. When asked if he ever killed innocent citizens or committed the abuses that so many spoke of, Adam laughed uncomfortably and asked if it was possible to fight and not kill. "But I only killed other soldiers," he said.
By mid-2013, a mostly Christian group of fighters known as the anti-Balaka, which translates to either "anti-machete" or "anti-bullets," emerged in rural villages to fight back. The movement was, in part, truly revolutionary: a self-organized militia of young men armed with rudimentary weapons like machetes and homemade rifles. But the anti-Balaka also counted among their ranks former army officers, many of whom remained loyal to Bozizé.
War in the Central African Republic is usually understood abroad as a grinding religious conflict. Of the 4.5 million people who live in the remote, landlocked country, only 15 percent are Muslim; the rest are either Christian or animist. These communities have lived together peacefully for centuries. The latest explosion of violence, though, has succeeded in pitting them against each other. Victims on both sides have suffered, but the minority Muslim population appears to have borne the brunt of it. Two years ago, there were nearly 700,000 Muslims in the country. Now, according to some counts, fewer than 90,000 remain.
Like many wars around the world that are perceived as religious in nature, and where the narrative of communal strife is used by warring sides to fuel hatred, the sectarian aspect of the conflict may be a result of the fertile soil it grew from. A legacy of weak state institutions, the failure of multiple governments to implement promised reforms, competition over natural resources and the unadorned political opportunism of militia leaders gave rise to the fighting and fed it. Religion coils around these dynamics, increasing the pressure.
Militia leaders on both sides use the narrative of religious war to mobilize fighters in the pursuit of their narrow political objectives, said Beni Youkaté, a Guinean man who works in the country as an informal mediator between Séléka and anti-Balaka groups.
"The crisis here is not at all a religious crisis. It's military, and it's political. Quite simply, people have their interests in the crisis, and this suits them to use this ideology, this idea that Muslims and Christians can't get along," Youkaté said.
The emergence of the anti-Balaka marked a turning point for the country. Many of the fighters conflated the CAR's entire Muslim population with the Séléka. Soon they adopted a new goal: rid the country of its entire Muslim population. The Séléka, in turn, launched revenge attacks on non-Muslim populations, in particular against Bozizé's Gbaya. For the first time, the conflict took on a sectarian dimension. At the U.N. headquarters in New York, diplomats spoke of the possibility of genocide.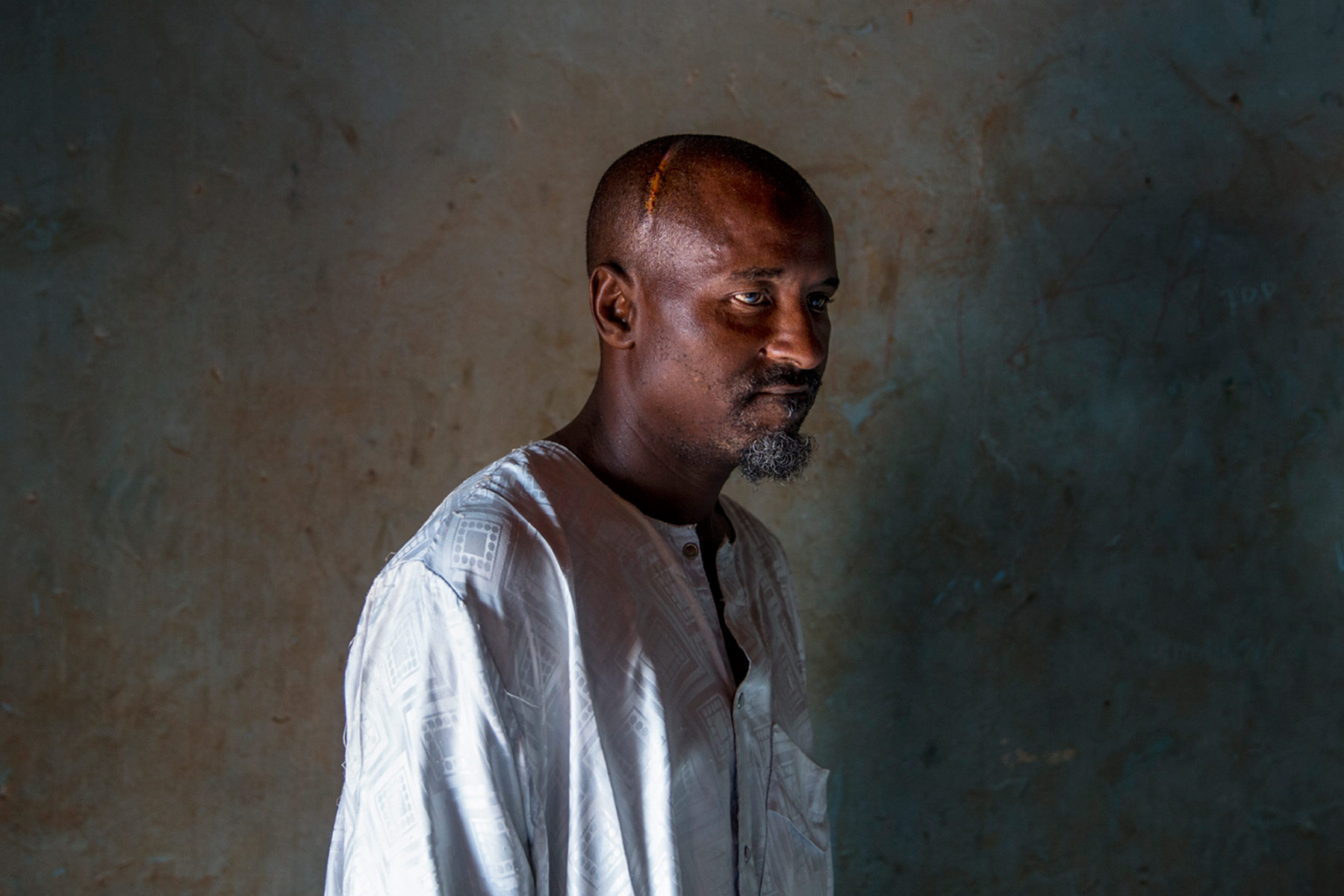 Photoessay: Trapped in a Nightmare
Photographer William Daniels documents the plight of 23,000 refugees trapped by violence in the Central African town of Boda
The anti-Balaka attacked Bangui on Dec. 5, 2013, setting in motion weeks of tit-for-tat attacks between the two communities. Hundreds of bodies piled up in the city's morgues and mosques. More than 100,000 of Bangui's Christians fled to the city's derelict airport, which was protected by French troops, and to other camps. Nearly the entire population of Muslims in the west, including many in the capital, fled north or across the border in "an exodus of historic proportions," according to Amnesty International.
In September 2013, Djotodia attempted to disband some of the Séléka, and Adam, along with thousands of other fighters, was disarmed and forcefully billeted into a crowded, run-down military camp in Bangui. The plan was to integrate them into a new, professionalized army, but it never happened, and he languished there for months. "They just gave us some food, barely enough manioc"— a staple food, like a potato, that is eaten throughout Africa — "for the entire week and occasionally some sardines," he said. "Life was really hard."
– "aljazeera"
Posted by Admin, December 9, 2014 6:26 am
Most of us go our entire lives without ever standing trial for crimes against humanity. Then again, most of us aren't notorious bigot Pastor Scott Lively, whose life work seems to be to ask the question: "How can I make gay people miserable across the world?" In the United States Lively's homophobic messages are largely ignored, and in recent years he has had to endure various setbacks at the state and federal level as equality makes historic gains. Undeterred, Lively has sought out foreign lands where his particular brand of ruthless anti-gay ideas are more accepted. In Uganda, he found a home away from home.
During a Christian "workshop" in the African nation he managed to become one of the principal architects behind some of the most retrograde anti-gay legislation on the planet. Officially titled the "Anti-Homosexuality Act" and more commonly known as the "Kill the Gays" bill, Lively's vision was nothing less than a roadmap for the total persecution and eradication of homosexuals from Uganda. In Lively's original design, anyone caught engaging in homosexuality would be executed. A newer bill softened that stance slightly after worldwide condemnation – in the latest version, homosexuals would only be sentenced to life in prison. Unfortunately for Lively, orchestrating genocide in another country is kind of frowned upon, and in 2012 a lawsuit was filed against Lively in federal court in Massachusetts for crimes against humanity.
This week, the First Circuit Court of Appeals denied Lively's final request to have it dismissed because, well, the whole genocide thing. During his lengthy appeals process, one would think that Lively would lay low and avoid saying anything that suggests he isn't at all sorry for helping Uganda try to kill its gay population. Instead, Lively has continued to double down on his efforts to spread as much homophobia as possible. It's gotten so bad that the watchdog group Human Rights Campaign dedicated September to chronicle the various ways Lively and his anti-gay ministry were "exporters of hate." Scott Lively is the head of Abiding Truths Ministry in Springfield, Massachusetts and is known around the world for his notorious work successfully advocating for anti-LGBT laws in Uganda that could send LGBT people to prison for life. In fact, Lively has traveled the world over presenting himself as an expert on LGBT issues, urging lawmakers to crack down on LGBT rights and the right of free expression.
In 2007, Lively wrote in "Letter to the Russian People," "Homosexuality is a personality disorder that involves various often dangerous sexual addictions and aggressive anti-social impulses." And this week, while he awaited his fate at his crimes against humanity trial, Lively told Trunews that homosexuality should be considered "more offensive" than mass killings, because gay people caused the Great Flood that wiped out the human race (technically, God did, and technically there is no evidence of that actually occurring, but who's counting?). "Homosexuality is not just another sin," he said according to Right Wing Watch, "it is the sin that defines rebellion against God, the outer edge of rebellion against God and it is the harbinger of God's wrath, that's why the Scripture gives the warning, 'as in the days of Noah.'" In a way it makes sense that Lively would be adamant that homosexuality was worse than mass murder, considering that the mass murder of gay people is what he stands accused of trying to achieve. Lively currently lives in Springfield, Massachusetts, and hopefully soon will have a permanent residency behind bars. h/t Death and Taxes Magazine